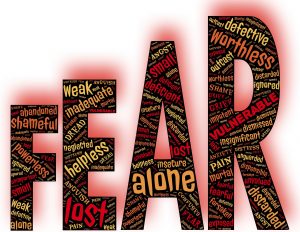 Developing a relationship with Fear is a critical for resilience. My dictionary describes Fear as "an unpleasant emotion caused by exposure to danger, expectation of pain, etc. … anxiety or apprehension…"* Some people are more comfortable co-existing with Fear than others despite having lived through scary experiences. Others feel immobilized and can practically hear "Fear" panting from around the next corner. Anxiety, dread, panic, unwillingness to step forward or initiate change are common symptoms. Many of us mistakenly believe that the solution is to simply co-exist with Fear. We make an agreement: I'll give up and stay away from change, goals, dreams and being the best I can be if you, Fear, just stay over there in the corner.
Fear is happy with this living arrangement because Fear's best friend, Disappointment, is about to move in too. I know from experience that Disappointment is just as much a bully as Fear. When you get both of them in the room together it's impossible to feel resilient. Fear prances around making threats but Disappointment actually kicks us in the stomach.
Let's say Fear and Disappointment have already taken up residence in your home. It's not too late… it's never too late to develop some house rules. Fear likes to tell us that we're the only one in his life. The truth is that Fear has been busy and has at one time or another bullied every single one of us. Talk to other people about Fear and Disappointment and you'll find some helpful suggestions. Just sharing the burden can help you feel stronger. It's not always possible to evict Fear but you can demand that he live in the basement most of the time. And once you've put Fear in the basement, Disappointment won't come around as often.
* The Canadian Oxford Dictionary (Don Mills, ON: Oxford University Press, 2001).
Originally published July 2013 as "Resilience Tip #16: Standing up to Fear" in Disability Alliance BC's e-newsletter, Our Voice.